The Festival Commons at Charles R. Wood Park, located at the southern end of historic Lake George, is an ideal location for your next event. With panoramic views of "The Queen of American Lakes," event-goers can also take advantage of all that Lake George has to offer in terms of activities and sight-seeing, all within a very short walk from the grounds. The beauty and proximity of The Festival Commons at Charles R. Wood Park in Lake George offers something unique for each season and every occasion.
Warren County and the Village of Lake George, New York elected to designate 2.5 acres of the West Brook Conservation Initiative Project to a "Festival Space," which would service as an economic engine for the park, as well as the Region. This centrally located space within the park has been designed to be flexible to host a variety of fee and non-fee based events. Whether it be large or small, this multi-purpose, modern event facility in Lake George, NY can host a multitude of functions, including: Theatre, Dance, Live Music, Re-enactments, Craft Fairs, Flea Markets, and Farmers Markets; Car Shows, Boat Shows, Motorcycle Shows, Holiday Festivals, Fundraisers, Corporate Functions, Press Events, and much more!
Jan
10
Mon
Ice Castles (Weather Permitting)
Jan 10 – Feb 25 all-day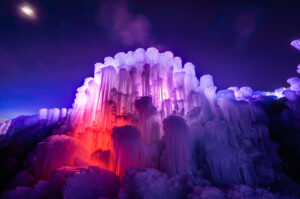 (Dates and hours are weather dependent.)
Ice Castles is an award-winning frozen attraction located in five cities across North America. The experience is built using hundreds of thousands of icicles hand-placed by professional ice artists. The castles include breathtaking LED-lit sculptures, frozen thrones, ice-carved tunnels, slides, fountains and much more.
Our tickets will be sold online at www.icecastles.com/new-york/. They go on sale a few days before we open, which will hopefully be in early to mid-January, weather permitting.